<![if !vml]>

<![endif]>            WebSBA for Small Business              <![if !vml]>

<![endif]>
We developed and implemented a Cloud Accounting and Production Management System in 2003 before the concept of "cloud computing"  was commonly used.  We named it  "WebSBA.com" for Small Business Accounting on the Web.  We graphically depicted it's functionality with a Server on the cloud accessed by users from anywhere in the world.    We integrated this web based software package into our www.websba.com domain and used it for our own "brick and mortar" small business (as a total solution to our Sales, Accounting, Production, Time and Attendance with Payroll and Asset Management needs). 
<![if !vml]>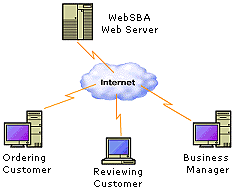 <![endif]>We also offered it as a service to practicing accountants and other small business entrepreneurs by hosting their account on our servers.  Many entrepreneurs used all Accounting Functions including Production Management, Shopping Cart, Time and Attendance with Payroll and Fixed Asset Management. Practicing Accountants often limited their use to the basic Accounting Functions Journal and General ledger, Check Book and all financial reporting function. Some however successfully worked with clients who did enter their data remotely and the Accountant reviewed and made required entries and or corrections remotely as well.
 The web site links bellow are live examples of the application described above.
www.saintnectariosshrine.org        and others.                                 HOME